Valentine's Day is just around the corner, setting the stage for the most romantic time of year! However, our everyday lives have a nasty habit of getting in the way of romance and taking up time that could be far better spent connecting with those we love. Here at Landmark Inn, we understand that there's nothing better than an escape from the day to day to rekindle the romance in your life. Read on for our exclusive guide to the ultimate romantic getaway in Cooperstown, New York.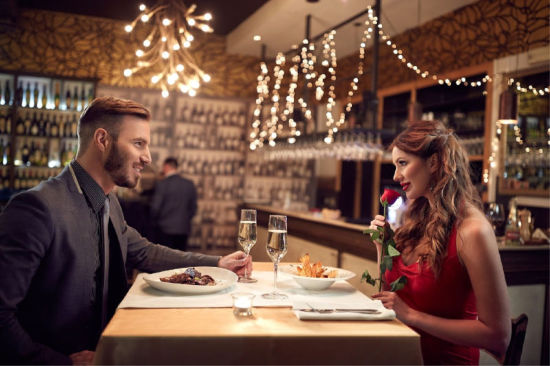 Premier Dining Awaits in Cooperstown
There's something wonderfully romantic about Italian cuisine. The music, the wine, and the delicious food all combine to create an unmatched ambiance – anyone who's seen the classic spaghetti scene in Lady and the Tramp can attest to that! Our recommendation and personal favorite for Italian food goes to Toscana Cucina Italiana. It has Landmark Inn's seal of approval and we're sure that you will love its distinctive take on northern Italian cuisine.
Other excellent restaurants in the area include Alex's World Bistro, serving up a wide variety of international dishes from the mind of Chef Alex Webster. Or for a more casual feel, Ommegang Brewery and Café is a wonderful choice for lovers of good food, good beer and good times. We are always happy to recommended other restaurants in Cooperstown and assist with reservations when needed.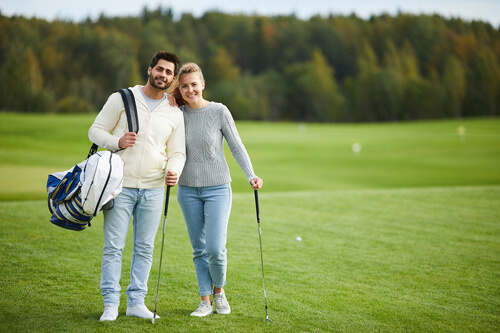 Spend a Romantic Day Together in Cooperstown
There's nothing quite like spending the day together doing things you love to spark your connection. Cooperstown has plenty of fun activities to fill your days, and all sorts of things to see and experience. Do you or your partner love sports? Well, you're in luck! Cooperstown is home to the famous Baseball Hall of Fame which is a must-visit for any fan of the sport. Landmark Inn has partnered with them to offer an exclusive Hall of Fame VIP Experience on select dates, so you can have the ultimate behind-the-scenes tour. For golf lovers, the Leatherstocking Golf Course provides a beautiful backdrop while you spend the day together soaking up the fresh air. It's ranked as one of the best courses in the country by Condé Nast and is the perfect way to get outdoors and have some fun.
If you would rather celebrate your love with a toast, the surrounding area hosts wonderful wineries featuring world-class Rieslings and Chardonnays made with grapes from the nearby Finger Lakes region. Spend the day wine tasting as you take in the beautiful scenery in Upstate New York. Make sure and check out our list of top activities near Cooperstown for more information on everything there is to do and see, including museums, theater, art and more!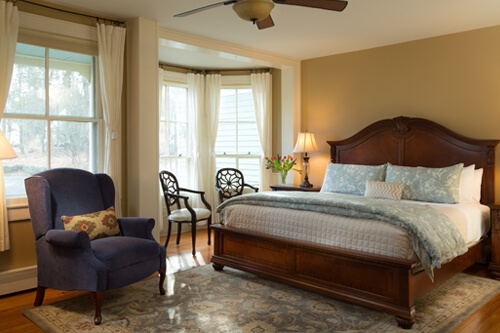 Cozy Up Together in Luxurious Accommodations
Enjoy privacy and romance with your partner in one of the luxurious rooms or suites at our Cooperstown bed and breakfast. All of our accommodations boast their own unique personality, include our daily homemade breakfast, and feature top-notch amenities for a comfortable stay. The Chance Suite is considered by many to be the most romantic room of all. It features beautiful hardwood floors, a comfortable King Bed, a Double Dream Shower and a Jacuzzi tub with nine jets with room for two – perfect for a relaxing end to your day! Whichever room you decide to stay in for your romantic getaway in Cooperstown, you're guaranteed an unparalleled experience and maximum comfort.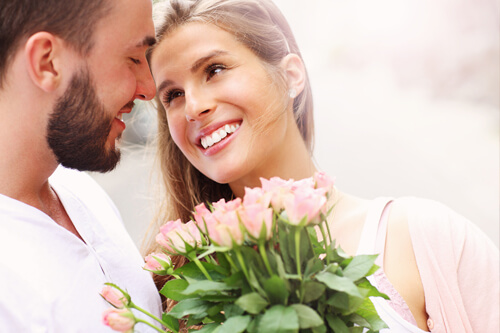 Create Memories That Will Last a Lifetime
Time with those we love is precious. Sometimes with the demands of the modern world, it can feel like time is more fleeting than we would like it to be. That's why we invite you and your significant other to escape the stresses of life and stay with us at our quaint small town Inn. Get away from it all, relax, and give your partner the attention he or she deserves with one of our specially curated Landmark Inn Romance Packages. Not only do our packages offer you an instant upgrade to the finest room we have available, but they also treat you to chocolate covered strawberries, Champagne, beautiful roses, and so much more. Our romantic additions are available all year, so you can celebrate your love any time you choose to visit. Our attentive staff is here and happy to help you plan an amazing stay in Cooperstown that is special and memorable. We hope to see you soon, but until then, "arrivederci!"
Book Now