The Baseball Hall of Fame
The beautiful Landmark Inn sits within an easy ten-minute walk to the Cooperstown
National Baseball Hall of Fame and Museum
. Was Cooperstown the birthplace of baseball? Well… yes… it… was. Didn't Abner Doubleday live here? Didn't a local farmer unearth the
original
baseball with his plow? And didn't the Mills Commission determine in 1907 – after a lunchtime of exhaustive and unbiased study –
that Cooperstown was indeed THE birthplace of baseball? You're darn right they did! Oh, sure, we hear the naysayers, but let's be honest… wouldn't you rather be celebrating baseball in beautiful Cooperstown than … ahem…Hoboken? Yes, you absolutely would. See, like we keep saying… it's all about the stories! We welcome you to our
Cooperstown bed and breakfast
.
Landmark Inn's VIP Tour
Looking for a perfect gift? Consider a VIP Tour of the Hall of Fame! On select dates throughout the spring and fall, The Landmark Inn has partnered with the MLB Hall of Fame to offer this special two-day behind the scenes program designed to give you special access not available to the museum's general visitors!
AND a Sustaining Membership in the HOF is included! Valued at $125, the membership includes benefits, such as the Hall of Fame Yearbook, Almanac and a subscription to Memories and Dreams magazine, along with discounts, free admission to the Museum and much more.
The Hall of Fame VIP Experience makes a perfect get-away for you and your family or a great gift for someone special. Space is limited for this exclusive program on select dates.
Call (607) 547-7225 to book your VIP Experience today and don't forget to view our other Cooperstown, New York vacation packages as well.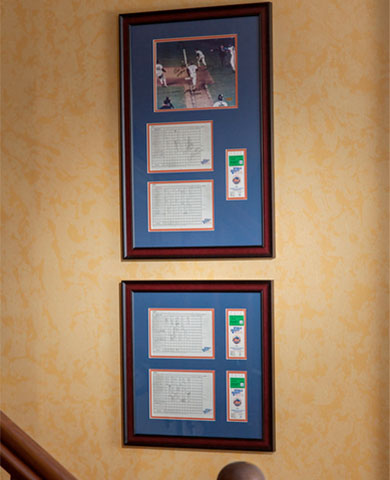 2020 Dates 
March 12-13 | April 16-17 | September 10-11 | November 5-6
You VIP itinerary looks like this:
Day 1
3:00 –  Check into Cooperstown's #1 rated B&B and your beautiful Landmark Inn room (perhaps one with our exclusive "dream showers"?) Your credentials will be waiting for you!
5:15-5:45 – Welcome at the HOF / The Baseball Experience
5:45-7:00 – Private After-Hours Access to the Museum
Day 2
7:30 – Wake up and wonder why you've never experienced such sumptuous sheets before!
8:00-9:30 – Enjoy the only chef-prepared gourmet breakfast offered in a Cooperstown B&B/Inn
10:45-12 – Hall of Fame Library Archive Tour
12-1:15 – Lunch / Free Time
1:15-2:30 – Museum Collections Artifact Spotlight
2:30-3:00 – Share stories at a private VIP Reception
Day 3
7:30 – Wake up and wonder why you've never experienced such an amazing multi-jet shower before!
8:00-9:30 – Savor another memorable farm-to-table chef-prepared gourmet breakfast at The Landmark Inn
11:00 – Make plans to return!